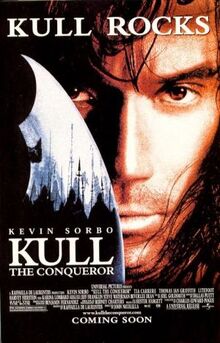 Kull the Conqueror is a 1997 fantasy film about the Robert E. Howard character Kull starring Kevin Sorbo. It is a film adaptation of Howard's Conan novel The Hour of the Dragon, with the protagonist changed to the author's other barbarian hero Kull. The storyline also bears similarities to two other Howard stories, the Kull story "By This Axe, I Rule" and the Conan story, "The Phoenix on the Sword", which was actually a rewrite of the Kull story.
The film was originally intended to be the third Conan film, Conan the Conqueror. The protagonist was changed due to Arnold Schwarzenegger's refusal to reprise his role as Conan and Kevin Sorbo's reluctance to redo a character already played. Screenwriter Charles Edward Pogue has stated on several occasions that he was extremely displeased with this film, feeling that his script was ruined by studio interference.
Ad blocker interference detected!
Wikia is a free-to-use site that makes money from advertising. We have a modified experience for viewers using ad blockers

Wikia is not accessible if you've made further modifications. Remove the custom ad blocker rule(s) and the page will load as expected.