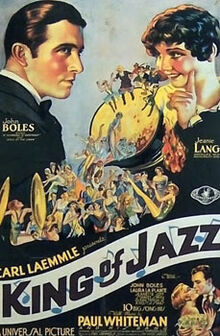 King of Jazz is a 1930 American color film starring Paul Whiteman and His Orchestra. The film's title was taken from Whiteman's controversial, self-conferred appellation. Although using the word to describe Whiteman's music seems absurd today, at the time the film was made, "jazz", to the general public, meant the jazz-influenced syncopated dance music which was being heard everywhere on phonograph records and through radio broadcasts. Lending his title a measure of legitimacy is the fact that in the 1920s Whiteman signed and featured great white jazz musicians including Joe Venuti and Eddie Lang (both are seen and heard in the film), Bix Beiderbecke (who had left before filming began), Frank Trumbauer and others still held in high regard. The film was shot entirely in the early two-color Technicolor process and was produced by Carl Laemmle for Universal Pictures. The movie featured several songs sung on camera by the Rhythm Boys (Bing Crosby, Al Rinker and Harry Barris), as well as off-camera solo vocals by Crosby during the opening credits and, very briefly, during a cartoon sequence. King of Jazz still survives in a complete color print and is not a lost film. The film is widely known for having musician Kurt Cobain's great uncle Delbert Cobain in various scenes.
In 2013 the film was selected for preservation in the United States National Film Registry by the Library of Congress as being "culturally, historically, or aesthetically significant".
Ad blocker interference detected!
Wikia is a free-to-use site that makes money from advertising. We have a modified experience for viewers using ad blockers

Wikia is not accessible if you've made further modifications. Remove the custom ad blocker rule(s) and the page will load as expected.