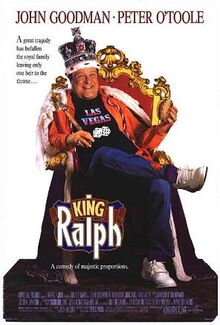 King Ralph is a 1991 American comedy film starring John Goodman in the title role of Ralph Jones. The movie also stars Peter O'Toole as the King's private secretary, Sir Cedric Willingham, Camille Coduri as Ralph's girlfriend Miranda Greene, and John Hurtas the British peer Percival Graves, who schemes to get Ralph removed in order to claim the throne himself.
The story is loosely based on the novel Headlong by Emlyn Williams. Very little of the story survived the transition to the screen; characters were changed and the story made into a comedy. The film was a minor box office hit.
Ad blocker interference detected!
Wikia is a free-to-use site that makes money from advertising. We have a modified experience for viewers using ad blockers

Wikia is not accessible if you've made further modifications. Remove the custom ad blocker rule(s) and the page will load as expected.