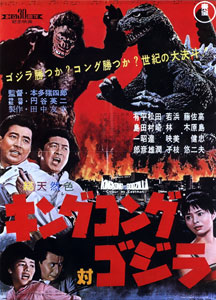 King Kong vs. Godzilla (キングコング対ゴジラ Kingu Kongu Tai Gojira?) is a 1962 Japanese science fiction Kaiju film produced by Toho Studios. Directed by Ishirō Honda with visual effects by Eiji Tsuburaya, the film starred Tadao Takashima, Kenji Sahara, and Mie Hama. It is the third installment in the Godzilla film series and the first of two Japanese-produced films featuring King Kongand also the first time both characters appeared on film in color and widescreen. Produced as part of Toho's 30th anniversary celebration, this film remains the most commercially successful of all the Godzilla films to date.
An American production team produced a heavily altered English version that used new scenes, sound and dubbing. The American production was released theatrically in the United States in the summer of 1963 by Universal International.
Ad blocker interference detected!
Wikia is a free-to-use site that makes money from advertising. We have a modified experience for viewers using ad blockers

Wikia is not accessible if you've made further modifications. Remove the custom ad blocker rule(s) and the page will load as expected.