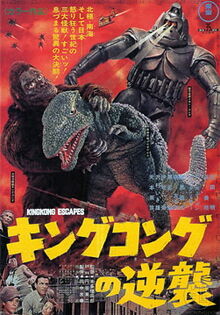 King Kong Escapes, (released in Japan as King Kong's Counterattack (キングコングの逆襲 Kingu Kongu no Gyakushū?), is a 1967 Kaiju film. A Japanese/American co-production from Toho (Japan) and Rankin/Bass (USA). Directed by Ishiro Honda and featuring special effects by Eiji Tsuburaya, the film starred both American actors (such as Rhodes Reason and Linda Miller) alongside Japanese actors (such as Akira Takarada, Mie Hama and Eisei Amamoto). The film was a loose adaptation of the Rankin/Bass Saturday morning cartoon series The King Kong Show and was the second and final Japanese-made film featuring the King Kong character.
The film was released theatrically in the United States in the Summer of 1968 by Universal Pictures.
Ad blocker interference detected!
Wikia is a free-to-use site that makes money from advertising. We have a modified experience for viewers using ad blockers

Wikia is not accessible if you've made further modifications. Remove the custom ad blocker rule(s) and the page will load as expected.