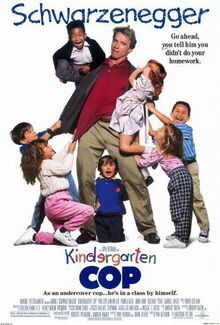 Kindergarten Cop is a 1990 American comedy film directed by Ivan Reitman and starring Arnold Schwarzenegger as John Kimble, a tough police detective, who must go undercover and pose as a kindergarten teacher to catch drug dealer Cullen Crisp (Richard Tyson), before he can get to his ex-wife and son. Along the way, he discovers his passion for teaching and considers changing his profession to become an educator. Pamela Reed plays his partner, Phoebe O'Hara, and Penelope Ann Miller plays Joyce, the teacher who becomes his love interest. The original music score was composed by Randy Edelman.
Ad blocker interference detected!
Wikia is a free-to-use site that makes money from advertising. We have a modified experience for viewers using ad blockers

Wikia is not accessible if you've made further modifications. Remove the custom ad blocker rule(s) and the page will load as expected.