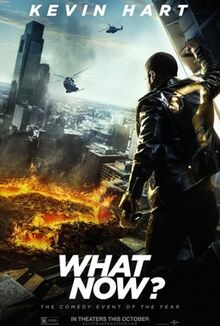 Kevin Hart: What Now? is a 2016 American stand-up comedy concert film starring comedian Kevin Hart, based on his 2015 stand-up tour of the same name. The film was released in the United States on October 14, 2016, received generally positive reviews and has grossed $23 million.
Plot
The film features two main parts, a spy story and a comedy performance. The film cuts back and forth between the two. In the film's spy sub-plot, set before the events of the performance, Kevin is an agent for MI6 (Agent 0054) and attends a poker game event with his date Money Berry (Halle Berry) only for it to go horribly wrong. As a result, he must deliver a stand-up comedy show, which leads to the performance.
In the performance portion, Kevin Hart performs at Lincoln Financial Field in Philadelphia, providing a humorous insight into parenting, people on the edge, current events and his hardship's in everyday life.
Cast
Kevin Hart as Agent 0054 (himself)
Halle Berry as Money Berry
Don Cheadle as FBI Agent
David Meunier as Victor the Russian criminal mastermind
Ed Helms as a Bartender
Peter Mensah as a African Dictator
Joey Wells as a Ladies' man
Ad blocker interference detected!
Wikia is a free-to-use site that makes money from advertising. We have a modified experience for viewers using ad blockers

Wikia is not accessible if you've made further modifications. Remove the custom ad blocker rule(s) and the page will load as expected.