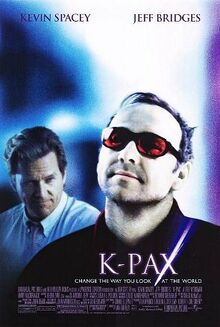 K-PAX is a 2001 American science fiction-mystery film directed by Iain Softley and starring Kevin Spacey, Jeff Bridges, Mary McCormack and Alfre Woodard. The screenplay, written by Gene Brewer and Charles Leavitt, is based on the novel K-PAX by Brewer about a psychiatric patient who claims to be an alien from the planet K-PAX. During his treatment, the patient demonstrates an outlook on life that ultimately proves inspirational for his fellow patients and especially for his psychiatrist.
Ad blocker interference detected!
Wikia is a free-to-use site that makes money from advertising. We have a modified experience for viewers using ad blockers

Wikia is not accessible if you've made further modifications. Remove the custom ad blocker rule(s) and the page will load as expected.