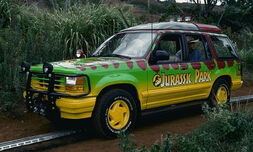 The Jurassic Tour Vehicle is a 1993 Ford Explorer XLT used in Jurassic Park. It took visitors on a tour throughout Jurassic Park, passing by the different dinosaur paddocks of the park. Starting at the Visitor Center, they continue off passing through the main gate and continuing on through the Dilophosaurus, Triceratops, and Tyrannosaurus rex paddocks.
Ad blocker interference detected!
Wikia is a free-to-use site that makes money from advertising. We have a modified experience for viewers using ad blockers

Wikia is not accessible if you've made further modifications. Remove the custom ad blocker rule(s) and the page will load as expected.