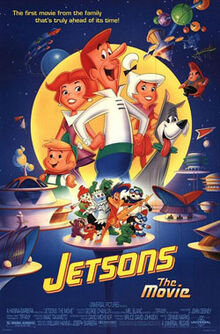 Jetsons: The Movie is a 1990 American animated musical comic science fiction comedy-drama film produced by Hanna-Barbera and released on July 6, 1990, by Universal Pictures. Based on Hanna-Barbera's cartoon series The Jetsons, the film stars the voices of George O'Hanlon, Penny Singleton, and Mel Blanc, all veterans of the series, in their last voice-acting roles. O'Hanlon and Blanc both died in 1989 during production of the film, which was dedicated to both their memories. Since there were no new episodes produced to continue from where the show left off, the film serves as the finale to the TV series.
Ad blocker interference detected!
Wikia is a free-to-use site that makes money from advertising. We have a modified experience for viewers using ad blockers

Wikia is not accessible if you've made further modifications. Remove the custom ad blocker rule(s) and the page will load as expected.