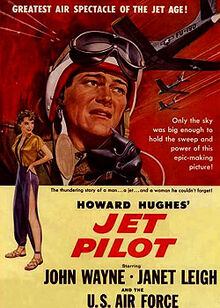 Jet Pilot is a 1957 Cold War action film starring John Wayne and Janet Leigh. Written by Jules Furthman and co-produced by Furthman and Howard Hughes, the Technicolor movie went through several directorial changes, after Josef von Sternberg began the directing between October 1949 and February 1950. After that point, Furthman, Philip Cochran (second unit director), Ed Killy (assistant), Byron Haskin (for the model work) and Don Siegel also directed scenes (Siegel's weren't used), as did Howard Hughes himself.
Filming dragged on for nearly four years. The last day of shooting was in May 1953, but the film was kept out of release by Howard Hughes due to his tinkering with the film (something for which he was notorious) until October 1957, by which time Hughes had sold RKO. Universal ended up distributing Jet Pilot.
Although Jet Pilot was publicized as showcasing the U.S. Air Force's latest jets, by the time it was finally shown most of the aircraft in the film were obsolescent or obsolete, being supplanted by more modern aircraft. In one aerial scene, the two lead characters fly a Lockheed F-94 Starfire to test a radar approach to intercept a propeller driven Convair B-36 bomber.
Jet Pilot was reportedly Howard Hughes's favorite film, one he watched repeatedly in his later years.
Ad blocker interference detected!
Wikia is a free-to-use site that makes money from advertising. We have a modified experience for viewers using ad blockers

Wikia is not accessible if you've made further modifications. Remove the custom ad blocker rule(s) and the page will load as expected.