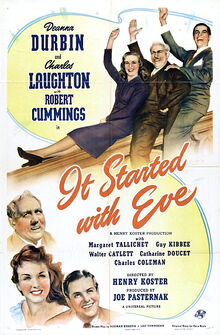 It Started with Eve is a 1941 American musical romantic comedy film directed by Henry Koster and starring Deanna Durbin,Robert Cummings, and Charles Laughton. Based on a story by Hanns Kräly, the film is about a man whose dying father wants to meet his son's new fiancée, but she is unavailable, so he substitutes a hatcheck girl. Complications arise when the father unexpectedly recovers. The film received an Academy Award nomination for Best Original Music Score (Charles Previn and Hans J. Salter). The film is considered by some critics to be Durbin's best film, and the last in which she worked with the producer (Joe Pasternak) and director (Henry Koster) that groomed her for stardom. It Started with Eve was
remade in 1964 as I'd Rather Be Rich.
Ad blocker interference detected!
Wikia is a free-to-use site that makes money from advertising. We have a modified experience for viewers using ad blockers

Wikia is not accessible if you've made further modifications. Remove the custom ad blocker rule(s) and the page will load as expected.