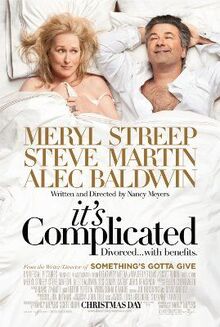 It's Complicated is a 2009 American romantic comedy film written and directed by Nancy Meyers. It stars Meryl Streep as a successful bakery owner and single mother of three who starts a secret affair with her ex-husband, played by Alec Baldwin, ten years after their divorce – only to find herself drawn to another man: her architect Adam (portrayed by Steve Martin). An ensemble film, the R-rated adult comedy also features supporting performances by Lake Bell, Hunter Parrish, Zoe Kazan, John Krasinski, Mary Kay Place, Robert Curtis Brown and Rita Wilson, among others.
The film was met with mixed to average reviews by critics, who declared it rather predictable despite fine work by an appealing cast, but became another commercial hit for Meyers upon its Christmas Day 2009 opening release in the United States and Canada. It played well through the holidays and in to January 2010, ultimately closing on April 1 with $112.7 million. Worldwide, It's Complicated eventually grossed $219.1 million, and surpassed The Holiday (2006) to become Meyer's third highest-grossing project to date.
For their performances, the cast was awarded a National Board of Review of Motion Pictures Award for Best Ensemble Cast the same year. In addition, the film was nominated at both the Critics' Choice Awards and the Satellite Awards and garnered Meyers two Golden Globe nominations, including Best Motion Picture – Musical or Comedy and Best Screenplay. Streep and Baldwin each were individually recognized with Best Actress and Best Supporting Actor nominations at the Golden Globe and BAFTA award ceremonies, respectively.