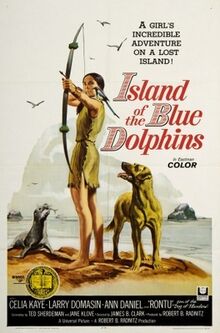 Island of the Blue Dolphins is a 1964 film based on the 1960 novel of the same name. It was directed by James B. Clark and starred Celia Kaye as Karana. Jane Klove and Ted Sherdeman adapted the script from O'Dell's novel, and the film was produced by Robert B. Radnitz and Universal Pictures. The film was made on a slight budget but did receive a wide release three months after its New York premiere. The New York Times's Howard Thompson gave the film a rather condescending review upon its release, saying it was strictly a children's film. However, Kaye won a Golden Globe Award for New Star of the Year for her performance. The film earned an estimated $2 million in rentals in North America.
Ad blocker interference detected!
Wikia is a free-to-use site that makes money from advertising. We have a modified experience for viewers using ad blockers

Wikia is not accessible if you've made further modifications. Remove the custom ad blocker rule(s) and the page will load as expected.