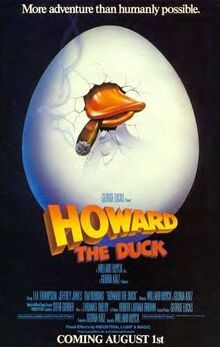 Howard the Duck (renamed Howard: A New Breed of Hero in the UK) is a 1986 American science fiction comedy film directed by Willard Huyck and starring Lea Thompson, Tim Robbins, and Jeffrey Jones. Produced by Gloria Katz and George Lucas and written by Huyck and Katz, the screenplay was originally intended to be an animated film based on the Marvel comic book of the same name, but the film adaptation became live action because of a contractual obligation. Although there had been several TV adaptations of Marvel characters during the preceding 21 years, this was the first attempt at a theatrical release since the Captain America serial of 1944.
Lucas proposed adapting the surrealist comic book following the production of American Graffiti. After stepping down as the president of Lucasfilm to focus on producing he chose to begin production on the film personally. Following multiple production difficulties and mixed response to test screenings, Howard the Duck was released in theaters on August 1, 1986. Upon its release, the film received overwhelmingly negative reviews from critics and was a box office failure, and in later years has been widely acknowledged as one of the worst films ever made. Contemporary critics saw the decision to shoot the film in live action instead of as an animated film and the appearance of Howard as primary obstacles to its success, while more recent commentators tend to focus on the film's writing. Despite the criticism, it has gained a cult following among fans of the comic book series.
Ad blocker interference detected!
Wikia is a free-to-use site that makes money from advertising. We have a modified experience for viewers using ad blockers

Wikia is not accessible if you've made further modifications. Remove the custom ad blocker rule(s) and the page will load as expected.