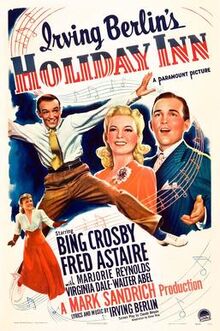 Holiday Inn is a 1942 American musical film directed by Mark Sandrich and starring Bing Crosby and Fred Astaire. With music by Irving Berlin, the film has twelve songs written expressly for the film, the most notable being "White Christmas". The film features the complete reuse of "Easter Parade", written by Berlin for the 1933 Broadway revue As Thousands Cheer. The film's choreography was by Danny Dare.
The film received a 1943 Academy Award for Best Original Song (Irving Berlin for "White Christmas"), as well as Academy Award nominations for Best Score (Robert Emmett Dolan) and Best Original Story (Irving Berlin).
Ad blocker interference detected!
Wikia is a free-to-use site that makes money from advertising. We have a modified experience for viewers using ad blockers

Wikia is not accessible if you've made further modifications. Remove the custom ad blocker rule(s) and the page will load as expected.