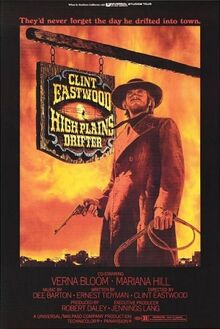 High Plains Drifter is a 1973 American supernatural western film produced by Robert Daley for Malpaso Company and Universal Studios, directed by and starring Clint Eastwood, and written by Ernest Tidyman (who also wrote the novelization. Eastwood plays an enigmatic wraith, who metes out justice in a corrupt frontier mining town, where he arrives as a stranger. The film was influenced by the work of Eastwood's two major collaborators, film directors Sergio Leone and Don Siegel.
The film was shot on location on the shores of Mono Lake, California. Dee Barton wrote the eerie film score. The film was critically acclaimed at the time of its initial release and remains popular today, holding a score of 96% at the review aggregate website Rotten Tomatoes.
Ad blocker interference detected!
Wikia is a free-to-use site that makes money from advertising. We have a modified experience for viewers using ad blockers

Wikia is not accessible if you've made further modifications. Remove the custom ad blocker rule(s) and the page will load as expected.