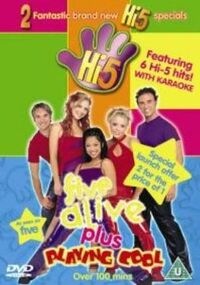 Hi-5 is an Australian children's television series, originally produced by Kids Like Us and later Southern Star for the Nine Network and created by Helena Harris and Posie Graeme-Evans. The program is known for its educational content, and for the cast of the program, who became a recognised musical group for children outside of the series, known collectively as Hi-5. It has generated discussion about what is considered appropriate television for children. The series premiered in April 1999 on the Nine Network. And also sown in Channel 5 in United Kingdom and all Hi-5 videos and DVDs, releases by Universal Pictures Home Entertainment.
See also
Ad blocker interference detected!
Wikia is a free-to-use site that makes money from advertising. We have a modified experience for viewers using ad blockers

Wikia is not accessible if you've made further modifications. Remove the custom ad blocker rule(s) and the page will load as expected.