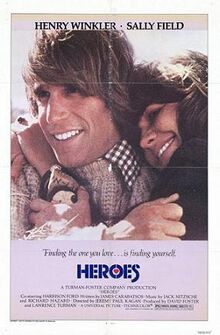 Heroes is a 1977 film drama directed by Jeremy Kagan and starring Henry Winkler, Sally Field and Harrison Ford (in his first post-Star Wars role, but filmed before that movie's release).
Winkler plays a Vietnam War veteran with PTSD who sets about finding the men from his unit that had served in Vietnam. Field plays his at-first-reluctant girlfriend and Ford plays one of the former soldiers in his unit, now a dysfunctional stock car driver inSedalia, Missouri who keeps a stolen machine gun in his motor home. This was the first film released after the conflict ended in 1975 to address Vietnam War issues.
Ad blocker interference detected!
Wikia is a free-to-use site that makes money from advertising. We have a modified experience for viewers using ad blockers

Wikia is not accessible if you've made further modifications. Remove the custom ad blocker rule(s) and the page will load as expected.