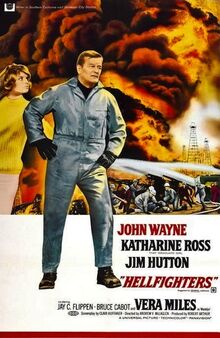 Hellfighters is a 1968 American film starring John Wayne and featuring Katharine Ross, Bruce Cabot, Jim Hutton, Jay C. Flippenand Vera Miles. The film, directed by Andrew V. McLaglen, is about a group of oil well firefighters, based loosely on the life of Red Adair. Adair, "Boots" Hansen, and "Coots" Matthews, served as technical advisers on the film.
Hellfighters was for the most part negatively received.
Ad blocker interference detected!
Wikia is a free-to-use site that makes money from advertising. We have a modified experience for viewers using ad blockers

Wikia is not accessible if you've made further modifications. Remove the custom ad blocker rule(s) and the page will load as expected.