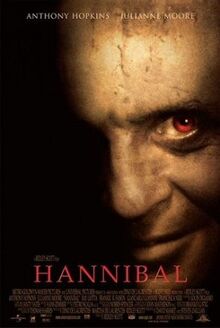 Hannibal is a 2001 American crime thriller film directed by Ridley Scott, adapted from the novel of the same name by Thomas Harris. It is the sequel to the 1991 Academy Award-winning film The Silence of the Lambs in which Anthony Hopkins returns to his role as the iconic serial killer, Hannibal Lecter. Julianne Moore co-stars, in the role first held by Jodie Foster as the U.S. Federal Bureau of Investigation, Agent Clarice Starling.
Set ten years after The Silence of the Lambs, Hannibal follows Starling's attempts to apprehend Lecter before his surviving victim,Mason Verger (Gary Oldman), captures him. It is set in Italy and the United States. The novel Hannibal drew attention for its violence. When it was published in 1999, The Silence of the Lambs director Jonathan Demme, screenwriter Ted Tally, and actress Jodie Foster all declined to be involved in its film adaptation. Hannibal broke box office records in the United States, Australia, Canada and the United Kingdom in February 2001.
Ad blocker interference detected!
Wikia is a free-to-use site that makes money from advertising. We have a modified experience for viewers using ad blockers

Wikia is not accessible if you've made further modifications. Remove the custom ad blocker rule(s) and the page will load as expected.