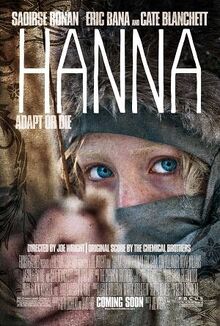 Hanna is a 2011 action thriller film that contains prominent fairy tale elements, directed by Joe Wright. The film stars Saoirse Ronan as the title character, a girl raised in the wilderness of northern Finland by her father, an ex-CIA operative (Eric Bana), who trains her as an assassin. Cate Blanchett is a senior CIA agent who tries to track down and eliminate the girl and her father. The soundtrack was written by The Chemical Brothers. The film was released in North America in April 2011 and in Europe in May 2011.
Ad blocker interference detected!
Wikia is a free-to-use site that makes money from advertising. We have a modified experience for viewers using ad blockers

Wikia is not accessible if you've made further modifications. Remove the custom ad blocker rule(s) and the page will load as expected.