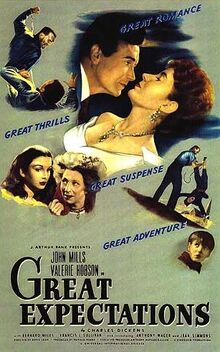 Great Expectations is a 1946 British film directed by David Lean, based on the novel by Charles Dickens and starring John Mills, Bernard Miles, Finlay Currie, Jean Simmons, Martita Hunt, Alec Guinness and Valerie Hobson. It won two Academy Awards (Best Art Direction and Best Cinematography) and was nominated for three others (Best Picture, Best Director and Best Screenplay).
The script, a slimmed-down version of Dickens' novel – inspired after David Lean witnessed an abridged 1939 stage version of the novel, in which Guinness (responsible for the adaptation) had played Herbert Pocket, and Martita Hunt was Miss Havisham – was written by David Lean, Anthony Havelock-Allan, Cecil McGivern, Ronald Neame and Kay Walsh. Guinness and Hunt reprised their roles in the film, but the film was not a strict adaptation of the stage version. The film was produced by Ronald Neame and photographed by Guy Green. It was the first of two films Lean directed based on Dickens' novels, the other being his 1948 adaptation of Oliver Twist.
Ad blocker interference detected!
Wikia is a free-to-use site that makes money from advertising. We have a modified experience for viewers using ad blockers

Wikia is not accessible if you've made further modifications. Remove the custom ad blocker rule(s) and the page will load as expected.