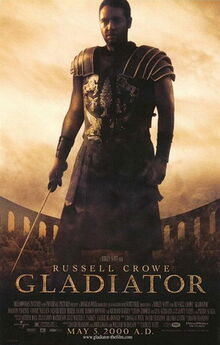 Gladiator is a 2000 epic historical drama film directed by Ridley Scott, starring Russell Crowe, Joaquin Phoenix, Connie Nielsen, Ralf Möller, Oliver Reed (in his final film role), Djimon Hounsou, Derek Jacobi, John Shrapnel, and Richard Harris. Crowe portrays the fictional character, loyal Roman general Maximus Decimus Meridius, who is betrayed when Commodus, the ambitious son of Emperor Marcus Aurelius, murders his father and seizes the throne. Reduced to slavery, Maximus rises through the ranks of the gladiatorial arena to avenge the murders of his family and his emperor.
Released in the United States on May 5, 2000, Gladiator was a box office success, received generally positive reviews, and was credited with rekindling interest in the historical epic. The film won multiple awards, notably five Academy Awards in the 73rd Academy Awards including Best Picture and Best Actor for Crowe.
Ad blocker interference detected!
Wikia is a free-to-use site that makes money from advertising. We have a modified experience for viewers using ad blockers

Wikia is not accessible if you've made further modifications. Remove the custom ad blocker rule(s) and the page will load as expected.