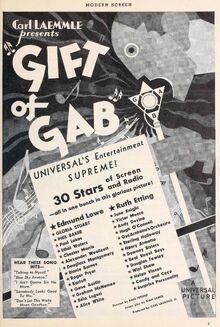 Gift of Gab is a 1934 black-and-white film released by Universal Pictures. Edmund Lowe stars as a man with the "Gift of Gab" — he can sell anyone anything. The film costars Ruth Etting, Ethel Waters, Victor Moore, and Gloria Stuart, and features Boris Karloff and Béla Lugosi.
Ruth Etting sings "Talking to Myself" and "Tomorrow, Who Cares?". Originally the Three Stooges were signed to appear in the film. However, the Stooges had just signed with Columbia Pictures for Woman Haters, the first of their short subjects, so three look-alike actors replaced them for Gift of Gab.
Ad blocker interference detected!
Wikia is a free-to-use site that makes money from advertising. We have a modified experience for viewers using ad blockers

Wikia is not accessible if you've made further modifications. Remove the custom ad blocker rule(s) and the page will load as expected.