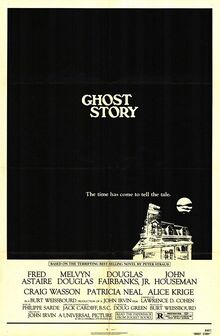 Ghost Story is a 1981 American horror film directed by John Irvin and based on the 1979 book of the same name by Peter Straub. It stars Fred Astaire, Melvyn Douglas, Douglas Fairbanks, Jr., John Houseman and Craig Wasson (in a dual role). It was the last film to feature Astaire, Fairbanks, and Douglas (who died four months before the film's release), and the first film to feature Michael O'Neill. The film was shot in Woodstock, Vermont, Saratoga Springs, New York and at Stetson University in DeLand, Florida.
Ad blocker interference detected!
Wikia is a free-to-use site that makes money from advertising. We have a modified experience for viewers using ad blockers

Wikia is not accessible if you've made further modifications. Remove the custom ad blocker rule(s) and the page will load as expected.