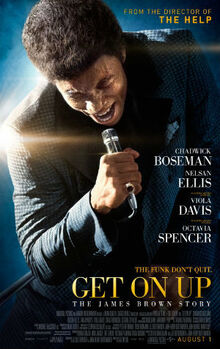 Get on Up is a 2014 American biographical drama film about the life of singer James Brown directed by Tate Taylor and written by Jez and John-Henry Butterworth. The film stars an ensemble cast featuring Chadwick Boseman as Brown, Nelsan Ellis as Bobby Byrd, Dan Aykroyd as Ben Bart, Viola Davis as Susie Brown, Keith Robinson as Baby Roy, and Octavia Spencer as Aunt Honey. The film was released on August 1, 2014.
Ad blocker interference detected!
Wikia is a free-to-use site that makes money from advertising. We have a modified experience for viewers using ad blockers

Wikia is not accessible if you've made further modifications. Remove the custom ad blocker rule(s) and the page will load as expected.