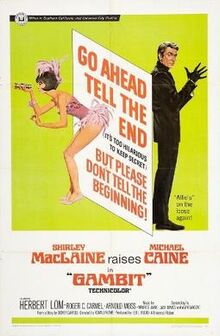 Gambit is a 1966 comedy heist film starring Shirley MacLaine and Michael Caine as two criminals involved in an elaborate plot centered on a priceless antiquity from millionaire Mr. Shahbandar, played by Herbert Lom. It was nominated for three Academy Awards.
The film was advertised with the tagline, "Go Ahead: Tell the End (It's Too Hilarious to Keep Secret) But Please Don't Tell the Beginning!"
Gambit was directed by Ronald Neame from a screenplay by Jack Davies and Alvin Sargent from the original story of Sidney Carroll.
A remake, with only basic ideas in common, was released in 2012, with a script by Joel and Ethan Coen. The cast includes Colin Firth, Cameron Diaz, Alan Rickman, Tom Courtenay, Stanley Tucci and Cloris Leachman.
Ad blocker interference detected!
Wikia is a free-to-use site that makes money from advertising. We have a modified experience for viewers using ad blockers

Wikia is not accessible if you've made further modifications. Remove the custom ad blocker rule(s) and the page will load as expected.