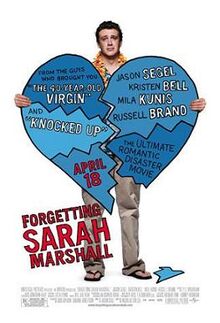 Forgetting Sarah Marshall is a 2008 American romantic comedy-drama film directed by Nicholas Stoller and starring Jason Segel,Kristen Bell, Mila Kunis and Russell Brand. The film, which was written by Segel and co-produced by Judd Apatow, was released by Universal Studios. Filming began in April 2007 at the Turtle Bay Resort on the North Shore of Oahu Island in Hawaii. The film was released for North American theaters on April 18, 2008 and in the UK a week later on April 25, 2008.
The story revolves around Peter Bretter, who is a music composer for a TV show that happens to feature his girlfriend, Sarah Marshall, in the lead role. After a five-year relationship, Sarah abruptly breaks up with Peter. Devastated by this event, he chooses to go on a vacation in Hawaii, in order to try to move forward with his life. Trouble ensues when he runs into his ex on the island as she is vacationing with her new boyfriend.
Ad blocker interference detected!
Wikia is a free-to-use site that makes money from advertising. We have a modified experience for viewers using ad blockers

Wikia is not accessible if you've made further modifications. Remove the custom ad blocker rule(s) and the page will load as expected.