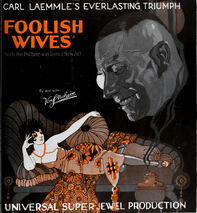 Foolish Wives is a 1922 American silent drama film produced and distributed by UniversalPictures (under their Super-Jewel banner) and written and directed by Erich von Stroheim. Although uncredited, Irving Thalberg, aged 22, was in charge of production. Thalberg would later become one of the most famous studio heads of all time. The drama features von Stroheim, Rudolph Christians, Miss DuPont, Maude George, and others.
When released in 1922, the film was the most expensive film made at that time, and billed by Universal Studios as the "first million-dollar movie" to come out of Hollywood. Originally, von Stroheim intended the film to run anywhere between 6 and 10 hours, and be shown over two evenings, but Universal executives opposed this idea. The studio bosses cut the film drastically before the release date.
In 2008, Foolish Wives was selected for preservation in the United States National Film Registry by the Library of Congress as being "culturally, historically, or aesthetically significant".
Ad blocker interference detected!
Wikia is a free-to-use site that makes money from advertising. We have a modified experience for viewers using ad blockers

Wikia is not accessible if you've made further modifications. Remove the custom ad blocker rule(s) and the page will load as expected.