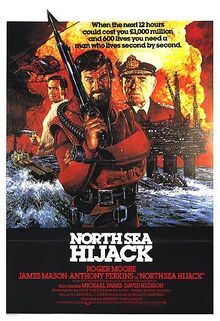 North Sea Hijack (released as Ffolkes outside the UK and as Assault Force on US TV) is a British action film from 1979 starring Roger Moore, James Mason, Anthony Perkins, and Michael Parks. It was directed by Andrew V. McLaglen and adapted by Jack Davies from his novel Esther, Ruth and Jennifer.
This film was a vehicle for both Moore and Perkins to try to escape typecasting. Previously Moore had been practically typecast as a womanising, happy-go-lucky playboy in such series as The Saint, The Persuaders! and James Bond. In contrast to those parts, he is shown here as a bearded, eccentric, arrogant cat-loving, misogynist showing heroic qualities as a master strategist. Moore once said in an interview that he preferred this film to all the James Bond movies he had starred in while acknowledging that he had been miscast in the lead role.
Ad blocker interference detected!
Wikia is a free-to-use site that makes money from advertising. We have a modified experience for viewers using ad blockers

Wikia is not accessible if you've made further modifications. Remove the custom ad blocker rule(s) and the page will load as expected.