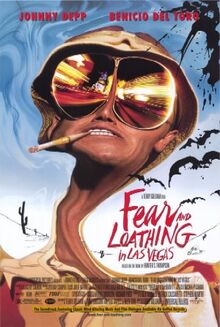 Fear and Loathing in Las Vegas is a 1998 American adventure comedy film co-written and directed by Terry Gilliam, starringJohnny Depp as Raoul Duke and Benicio del Toro as Dr. Gonzo. It was adapted from Hunter S. Thompson's 1971 novel of the same name.
The film was a box office failure, grossing US$10.6 million at the North American box office, well below its $18.5 million budget. It has since become a cult film due in large part to its release on DVD, including a Special Edition released by The Criterion Collection.
Ad blocker interference detected!
Wikia is a free-to-use site that makes money from advertising. We have a modified experience for viewers using ad blockers

Wikia is not accessible if you've made further modifications. Remove the custom ad blocker rule(s) and the page will load as expected.