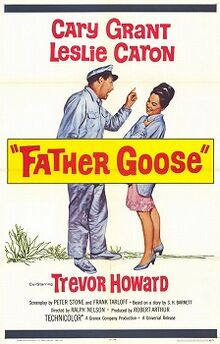 Father Goose is a 1964 romantic comedy film set in World War II, starring Cary Grant, Leslie Caron and Trevor Howard. The title derives from "Mother Goose", the codename assigned to Grant's character. The film won an Academy Award for its screenplay. The film introduced the song "Pass Me By" by Cy Coleman and Carolyn Leigh, later recorded by Peggy Lee, Frank Sinatra and others.
Ad blocker interference detected!
Wikia is a free-to-use site that makes money from advertising. We have a modified experience for viewers using ad blockers

Wikia is not accessible if you've made further modifications. Remove the custom ad blocker rule(s) and the page will load as expected.