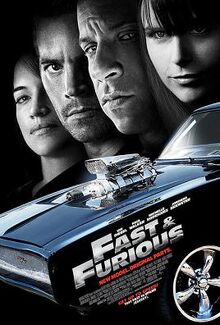 Fast & Furious (also known as Fast & Furious 4) is a 2009 American street racing action film directed by Justin Lin and written by Chris Morgan. It is the fourth installment of The Fast and the Furious franchise. The film stars Vin Diesel, Paul Walker, Michelle Rodriguez, Jordana Brewster and John Ortiz. The film serves as a connection from the the first film into a present day setting, with main members of the original cast reprising their roles. The film is chronologically set after the second installment 2 Fast 2 Furious (2003) and set before the third installment The Fast and the Furious: Tokyo Drift (2006). Originally released on April 3, 2009, the film received negative reviews upon release, but was a box office success grossing $363 million worldwide, and spawned three sequels (Fast Five, Fast & Furious 6 and Furious 7).
Ad blocker interference detected!
Wikia is a free-to-use site that makes money from advertising. We have a modified experience for viewers using ad blockers

Wikia is not accessible if you've made further modifications. Remove the custom ad blocker rule(s) and the page will load as expected.