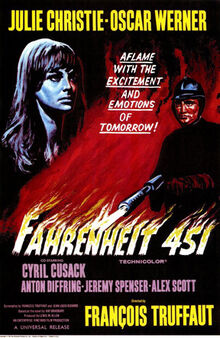 Fahrenheit 451 is a 1966 British Dystopian science fiction drama film directed by François Truffaut and starring Oskar Werner, Julie Christie, and Cyril Cusack. Based on the 1953 novel of the same name by Ray Bradbury, the film takes place in a controlled society in an oppressive future in which a fireman, whose duty it is to burn all literature, becomes a fugitive for reading. This was Truffaut's first colour film as well as his only English-language film. At the 1966 Venice Film Festival, Fahrenheit 451 was nominated for the Golden Lion.
Ad blocker interference detected!
Wikia is a free-to-use site that makes money from advertising. We have a modified experience for viewers using ad blockers

Wikia is not accessible if you've made further modifications. Remove the custom ad blocker rule(s) and the page will load as expected.