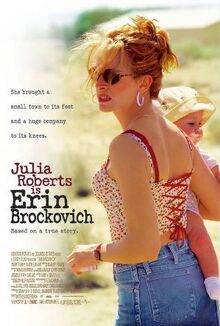 Erin Brockovich is a 2000 biographical film directed by Steven Soderbergh and written by Susannah Grant. The film is a dramatization of the true story of Erin Brockovich, portrayed by Julia Roberts, who fought against the energy corporation Pacific Gas and Electric Company (PG&E). The film was a box office success, and critical reaction was positive.
Roberts won the Academy Award, Golden Globe, Screen Actors' Guild Award and BAFTA for Best Actress. The film itself was also nominated for Best Picture and Best Director for Steven Soderbergh at the 73rd Academy Awards. He won that year, but for directing the film Traffic. Early in the film the real Erin Brockovich has a cameo appearance as a waitress named Julia.
Ad blocker interference detected!
Wikia is a free-to-use site that makes money from advertising. We have a modified experience for viewers using ad blockers

Wikia is not accessible if you've made further modifications. Remove the custom ad blocker rule(s) and the page will load as expected.