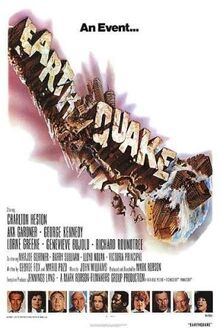 Earthquake is a 1974 American ensemble disaster film directed and produced by Mark Robson. The plot concerns the struggle for survival after a catastrophic earthquake destroys most of the city of Los Angeles, California.
Directed by Mark Robson and with a screenplay by George Fox and Mario Puzo, the film starred a large cast of well-known actors, including Charlton Heston, Ava Gardner, George Kennedy, Lorne Greene, Geneviève Bujold, Richard Roundtree, Marjoe Gortner,Barry Sullivan, Lloyd Nolan, Victoria Principal, and (under an alias) Walter Matthau. It is notable for the use of an innovative sound effect called Sensurround which created the sense of actually experiencing an earthquake in theatres.
Ad blocker interference detected!
Wikia is a free-to-use site that makes money from advertising. We have a modified experience for viewers using ad blockers

Wikia is not accessible if you've made further modifications. Remove the custom ad blocker rule(s) and the page will load as expected.