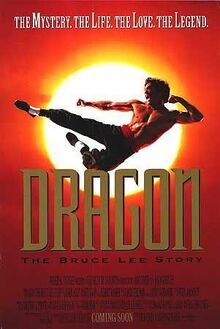 Dragon: The Bruce Lee Story is a 1993 American biographical drama film written and directed by Rob Cohen, and starring Jason Scott Lee (no relation), Lauren Holly and Robert Wagner. The film was released in the United States on May 7, 1993.
The film tells the story of actor and martial artist Bruce Lee. Dragon: The Bruce Lee Story was dedicated to Bruce and his son Brandon Lee, who died two months earlier while performing in his last film The Crow.
Ad blocker interference detected!
Wikia is a free-to-use site that makes money from advertising. We have a modified experience for viewers using ad blockers

Wikia is not accessible if you've made further modifications. Remove the custom ad blocker rule(s) and the page will load as expected.