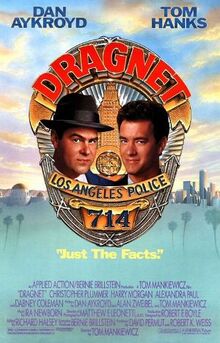 Dragnet is a 1987 American buddy cop comedy film written and directed by Tom Mankiewicz in his directorial debut, and starring Dan Aykroyd and Tom Hanks. The film is based on the television crime drama of the same name starring Jack Webb. The screenplay was written by Dan Aykroyd and Alan Zweibel. The original music score by Ira Newborn.
Acting as both a parody of and homage to the long-running television series, Aykroyd plays Joe Friday (nephew of the original series star) while Hanks plays Pep Streebek, his new partner. Harry Morgan reprises his role from the television series as Bill Gannon, now a Captain and Friday's and Streebek's boss.
Ad blocker interference detected!
Wikia is a free-to-use site that makes money from advertising. We have a modified experience for viewers using ad blockers

Wikia is not accessible if you've made further modifications. Remove the custom ad blocker rule(s) and the page will load as expected.