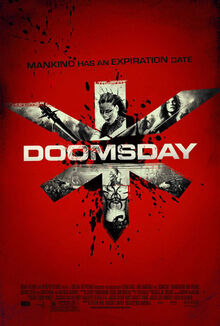 Doomsday is a 2008 science fiction action film written and directed by Neil Marshall. The film takes place in the future in Scotland, which has been quarantined because of a deadly virus. When the virus is found in London, political leaders send a team led by Major Eden Sinclair (Rhona Mitra) to Scotland to find a possible cure. Sinclair's team runs into two types of survivors: marauders and medieval knights. Doomsday was conceived by Marshall based on the idea of futuristic soldiers facing medieval knights. In producing the film, he drew inspiration from various movies, including Mad Max, Escape from New York and 28 Days Later.
Marshall had a budget three times the size of his previous two films, The Descent and Dog Soldiers, and the director filmed the larger-scale Doomsday in Scotland and South Africa. The film was released on 14 March 2008 in the United States and Canada and in the United Kingdom on 9 May 2008. Doomsday did not perform well at the box office, and critics gave the film mixed reviews. Rotten Tomatoes reported that 49% of critics gave the film positive write-ups, based on a sample of 69, with an average score of 5.1/10. At Metacritic, which assigns a normalized rating out of 100 to reviews from mainstream critics, the film has received an average score of 51, based on 14 reviews.
Ad blocker interference detected!
Wikia is a free-to-use site that makes money from advertising. We have a modified experience for viewers using ad blockers

Wikia is not accessible if you've made further modifications. Remove the custom ad blocker rule(s) and the page will load as expected.