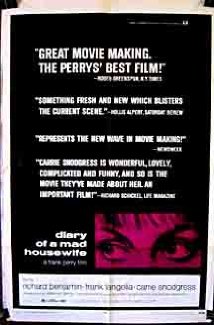 Diary of a Mad Housewife is a 1970 comedy-drama film about a frustrated wife portrayed by Carrie Snodgress. Snodgress was nominated for the Academy Award for Best Actress and won a Golden Globe award in the same category. The film was adapted by Eleanor Perry from the 1967 novel by Sue Kaufman and directed by Perry's then-husband, Frank Perry. The film co-stars Richard Benjamin and Frank Langella.
Ad blocker interference detected!
Wikia is a free-to-use site that makes money from advertising. We have a modified experience for viewers using ad blockers

Wikia is not accessible if you've made further modifications. Remove the custom ad blocker rule(s) and the page will load as expected.