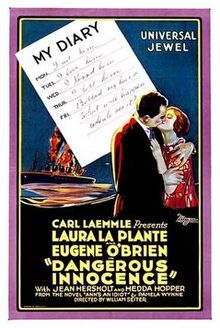 Dangerous Innocence was a 1925 American silent romantic comedy/drama film written by Lewis Milestone and James O. Spearing based upon the novel Ann's an Idiot by Pamela Wynne. Directed by William A. Seiter for Universal Pictures, the film starred Laura La Plante and Eugene O'Brien. The film's status is currently unknown, any copies of this film exist, and it is now considered lost.
Ad blocker interference detected!
Wikia is a free-to-use site that makes money from advertising. We have a modified experience for viewers using ad blockers

Wikia is not accessible if you've made further modifications. Remove the custom ad blocker rule(s) and the page will load as expected.