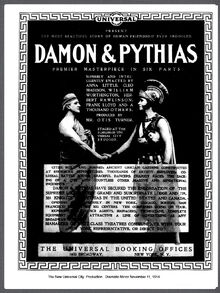 Damon and Pythias is a 1914 drama film released by Universal. This is the very first feature to be made by Universal at its new Universal City lot in Hollywood. The film was completed just prior to the studio's official opening in March, 1915.
Ad blocker interference detected!
Wikia is a free-to-use site that makes money from advertising. We have a modified experience for viewers using ad blockers

Wikia is not accessible if you've made further modifications. Remove the custom ad blocker rule(s) and the page will load as expected.