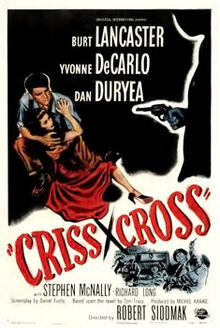 Criss Cross is a 1949 film noir starring Burt Lancaster, directed by Robert Siodmak from Don Tracy's novel of the same name. This black-and-white film was shot partly on location in the Bunker Hill section of Los Angeles. The film was written by Daniel Fuchs. Franz Planer's cinematography creates a black-and-white film noir world. Miklós Rózsa scored the film's soundtrack. It was remade as The Underneath in 1995.
Ad blocker interference detected!
Wikia is a free-to-use site that makes money from advertising. We have a modified experience for viewers using ad blockers

Wikia is not accessible if you've made further modifications. Remove the custom ad blocker rule(s) and the page will load as expected.