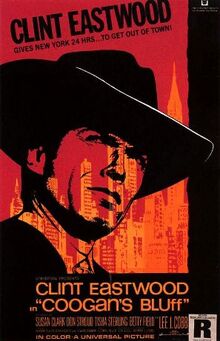 Coogan's Bluff is a 1968 American action film directed by Don Siegel, and starring Clint Eastwood, Lee J. Cobb, Don Stroud and Susan Clark. The film marks the first of five collaborations between Siegel and Eastwood, which continued with Two Mules for Sister Sara (1970), The Beguiled and Dirty Harry (both 1971), and finally Escape from Alcatraz (1979).
Eastwood plays the part of a young veteran deputy sheriff from a rural county in Arizona who travels to New York City to extradite an apprehended fugitive named Jimmy Ringerman, played by Stroud, who is wanted for murder.
The name of the film itself is a reference to a New York City natural landmark, Coogan's Bluff, a promontory in upper Manhattan overlooking the site of the former long-time home of the New York Giants baseball club, the Polo Grounds, with a double-meaning derived from the name of the lead character. The television series McCloud, starring Dennis Weaver, was loosely based on this story.
Ad blocker interference detected!
Wikia is a free-to-use site that makes money from advertising. We have a modified experience for viewers using ad blockers

Wikia is not accessible if you've made further modifications. Remove the custom ad blocker rule(s) and the page will load as expected.