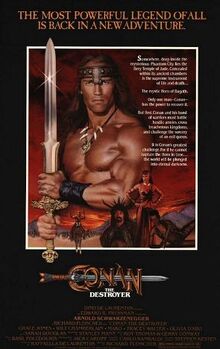 Conan the Destroyer is a 1984 American sword and sorcery/adventure film directed by Richard Fleischer, starring Arnold Schwarzenegger and Mako Iwamatsu reprising their roles as Conan and Akiro the wizard, respectively. The cast also includes Grace Jones, Wilt Chamberlain, Tracey Walter and Olivia d'Abo. It is the sequel to Conan the Barbarian. The film was moderately successful at the box office in the U.S., and very successful internationally, although critical response was not as strong as for the original film.
Ad blocker interference detected!
Wikia is a free-to-use site that makes money from advertising. We have a modified experience for viewers using ad blockers

Wikia is not accessible if you've made further modifications. Remove the custom ad blocker rule(s) and the page will load as expected.