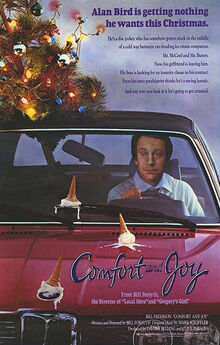 Comfort and Joy is a 1984 Scottish comedy film written and directed by Bill Forsyth and starring Bill Paterson as a radio disc jockey whose life undergoes a bizarre upheaval after his girlfriend leaves him. After he witnesses an attack on an ice cream van by angry competitors, he is led into the struggle between two Italian families over the ice cream market of Glasgow. The film received a BAFTA Award Nomination for Best Original Screenplay in 1985.
Ad blocker interference detected!
Wikia is a free-to-use site that makes money from advertising. We have a modified experience for viewers using ad blockers

Wikia is not accessible if you've made further modifications. Remove the custom ad blocker rule(s) and the page will load as expected.