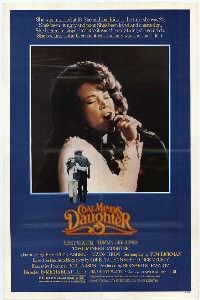 Coal Miner's Daughter is a 1980 biographical film which tells the story of country music legendary singer Loretta Lynn. It stars Sissy Spacek as Loretta, a role that earned her the Academy Award for Best Actress. Tommy Lee Jones as Loretta's husband Mooney Lynn, Beverly D'Angelo and Levon Helm also star. The film was directed by Michael Apted.
Levon Helm (drummer for the rock group The Band) made his screen debut as Loretta's father, Ted Webb. Ernest Tubb, Roy Acuff, and Minnie Pearl all make cameo appearances as themselves.
The film was adapted from Loretta Lynn's 1976 autobiography written with George Vecsey. At the time of the film's release, Loretta was 48 years old.
Ad blocker interference detected!
Wikia is a free-to-use site that makes money from advertising. We have a modified experience for viewers using ad blockers

Wikia is not accessible if you've made further modifications. Remove the custom ad blocker rule(s) and the page will load as expected.