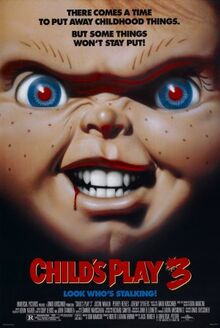 Child's Play 3 is a 1991 slasher horror film. It is the third installment in the Child's Play series, with Brad Dourif returning as the voice of Chucky. Although released only one year later, the story takes place eight years following the events of 1990's Child's Play 2.
The film became notorious in the United Kingdom when it was suggested it might have inspired the real-life murder of British child James Bulger, a suggestion rejected by officers investigating the case, as well as the murder of Suzanne Capper.
Ad blocker interference detected!
Wikia is a free-to-use site that makes money from advertising. We have a modified experience for viewers using ad blockers

Wikia is not accessible if you've made further modifications. Remove the custom ad blocker rule(s) and the page will load as expected.