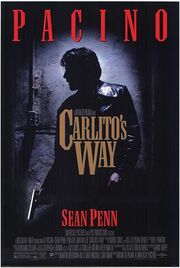 Carlito's Way is a 1993 American crime drama film directed by Brian De Palma, based on the novels Carlito's Way and After Hours by Judge Edwin Torres. The film adaptation was scripted by David Koepp. It stars Al Pacino and Sean Penn, with Penelope Ann Miller, Luis Guzmán, John Leguizamo, and Viggo Mortensen in supporting roles. The film's featured song, "You Are So Beautiful", was performed by Joe Cocker.

The film follows the life of Carlito Brigante after he is released from prison and vows to go straight and retire. However, unable to escape his past, he ends up being dragged into the same criminal activities that got him imprisoned in the first place.

It received a mixed response from critics, with a similar lukewarm result at the box office, but it subsequently gained a cult following. Both Sean Penn and Penelope Ann Miller received Golden Globe nominations for their performances. A prequel titled Carlito's Way: Rise to Power, based on the first novel, was filmed and released in 2005.
Ad blocker interference detected!
Wikia is a free-to-use site that makes money from advertising. We have a modified experience for viewers using ad blockers

Wikia is not accessible if you've made further modifications. Remove the custom ad blocker rule(s) and the page will load as expected.